About us!
Phyllis grew up in Los Alamos, NM. Traveled around the world when she was 10 (read the book about it "Eastern Odyssey"). Went to college in Tucson, AZ, where she met and married an Air Force boy.  We went to Germany for 3 years before we came back to live in Albuquerque NM and gave birth to two daughters,. Then off to Portland, OR for a year, but it didn't stick. Came back to Albuquerque, got divorced. And then met Mike Moser.
Mike grew up in Ogden, Utah, with a passion for the outdoors.  The many lives of Mike Moser included Pawn Shops, Tire Centers, work in the Construction Trade and Manufacturing Engineering.  He married a local hometown Mormon girl, and they had 4 sons and a daughter.  Unfortunately, not being of the Mormon faith himself, religion eventually came between them and they divorced.  About that time Mike met Phyllis Swenson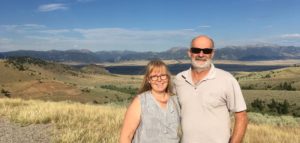 .
Mike and Phyllis moved to Boise, ID, then Jackson, WY, then to Star Valley WY, where we became alpaca breeders. Phyllis' mom was having trouble keeping up, so she suggested we start this blog.
After Wyoming we bought a ranch in Canon City, CO, where we lived until we decided the alpaca business would never support us, and we sold out.
Not needing the big ranch anymore we moved to South Park, CO, at 10,000 ft. But NOW (because we have itchy feet), we have decided to move into an RV full time, and that is the subject of this blog. We ski (Mike was a ski instructor), Phyllis worked remotely and traveled for IBM (which was the subject of our blog http://PhylsJourney.com), We are Day Traders, and Mailbox Power Distributors….  And now Certified RV Inspectors!
We are "Livin' the dream!"