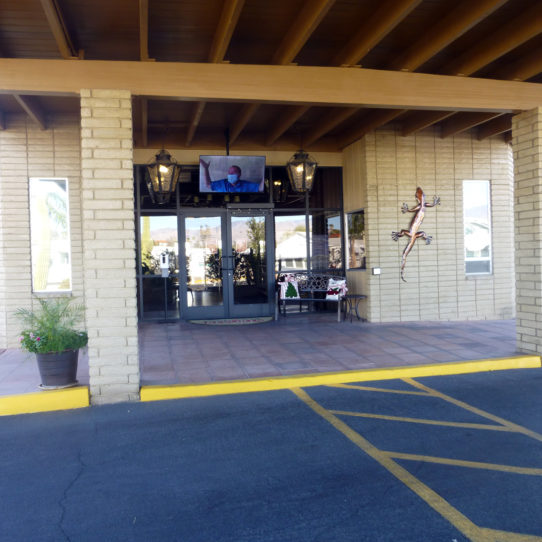 Far Horizons RV Resort
555 North. Pantano Road
Website: https://www.cal-am.com/resorts/far-horizons/
Rated as: Average
Rate Paid: $250 monthly + electricity (normal $825)
Discounts: Fall Special – 4 months $999
Stay duration: Oct 1, 2020 – Dec 31, 2020
Number of Sites: 514
Utilities: Water, electric, sewer, 50 Amp
Park WIFI: no, paid available
Personal WIFI: T-Mobile or Verizon – excellent
T-Mobile and Verizon Phone – excellent
Laundry Facilities: yes
Cable TV: no, paid available
Clubhouse: yes
Pool: yes Hot Tub: yes
Activities: yes, extensive
Pickle ball courts: yes
Propane station: delivery available
Dump station: no
Mailing address: 555 North Pantano Road

Tucson, AZ 85710
Description
Rated as: Average. This RV resort is one of many Cal-Am RV resorts in Arizona. The majority of spaces are filled with permanent park models, about 80%.  RV sites are randomly intersperse between them.  The roads are asphalt and east to navigate. The entire property is well maintained. The staff is efficient, but not overly friendly.  The co-managers are relatively new and trying hard to improve the resort.  The activity director is hindered by the covid virus restrictions and struggling to keep events within the city/state guidelines. There is a wood shop, lapidary shop, silver shop, dance classes, special events, and more.  Pickleball, bocce ball, horse shoes, putting green, and a golf driving range are available.,  A few complaints – propane is delivered once a week, but horrible expensive. The sites are too close together will little privacy. There are a few "old timers" that are abrasive, cliquish, even rude. The other residents and guests are very friendly.  Communication about activities is poor and overall organization needs to improve. There is a lot of traffic noise, on Fri and Sat nights, from "drag racing" on the city streets. If you do decide to stay at this resort, there are "premium sites" that are grouped together, much nicer, more roomy, but more expensive. We can cautiously recommend this park and would stay there again, only in a "premium" site. That said, we would look at the other venues first.  Rated as: Average.
Other notes:
In the city of Tucson
Close to 150 miles bicycle path
Close to the Air force plane "bone yard" and museum.
Photos
Video
No video