We did a thang! This is the story of how we ended up owning 2 big Class A motorhomes and ultimately had to Caravan from AZ to UT. Never a dull moment in this life!
The Caravan Leading RV
In 2017 when we bought Mac (our first full timing RV). Everyone advised us not to look for the perfect rig. Instead, they encouraged us to get into something to get started. Because along the way you will see other rigs and get clarification on what you might like. Then when you buy your final rig it will be a keeper. The day we found the first rig, the seller had originally turned down our offer. We were on our way to see another rig when the guy called us back and accepted the offer. Good enough, except we went ahead to the second appointment and actually liked that one better! Ugh.
In the end, we were very comfortable in the first rig. It was a Fleetwood Bounder (hence the name.. Fleetwood Mac), the most popular class a of the times. It traveled and served us well. We modified the interior so it fit our lifestyle well, so well that we almost decided not to upgrade. But it still was a gas RV, not the diesel pusher we wanted. That was something we could not change.
So since day one we have been looking, and aggressively looking for the past 3 years. It didn't help that Covid drove the prices of RV's sky high, and they are only now beginning to subside.
Also early on, we became enamored with Tiffin. Their reputation as a quality, great service company that manufacture a excellent product at a good price point. In the second year of our travels we visited the Tiffin factory in Red Bay, Alabama. This company won our heart and the Tiffin Phaeton model held a special place for us.
Mike is a very good shopper, and he is exceptionally patient. Every morning he's up an hour or two before me and he searches the internet. We went to see a LOT of RV's over the past few years but none of them were just right which of course includes the right price.
Towerpoint RV Resort – where the caravan begins
This is a bit of a diversion from the caravan story. We spent this winter in Mesa, Arizona, at a Cal-Am resort called Towerpoint.
Cal-Am is a California based company. It is the largest property management company for quality RV resorts and manufactured home communities in the country. They are dedicated to creating unparalleled experiences for both residents and guests. Towerpoint is one of 12 such resorts in Arizona. With only 1100 sites, Towerpoint is one of the smaller parks (Seriously Mesa Regal which borders Towerpoint has 2500 sites!). And Towerpoint did not disappoint!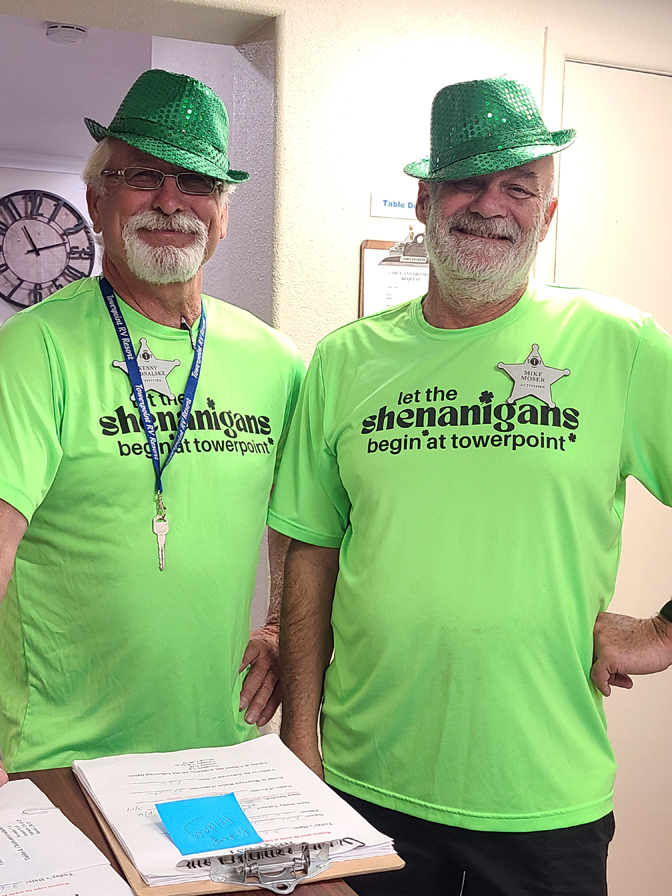 Activities
With had no idea what to expect, we had an amazing time! Our job as work campers in the Activities department basically means setting up and taking down tables and chairs for the endless activities. That was Mike's job, while I worked in the Activities office, doing computer database work. We only worked 15 hours a week each which gave us plenty of time to enjoy the park amenities.
The list or activities was endless: pools, hot tubs, movies, music bingo, cards, water aerobics, line dancing, silversmithing, wood shop, lapidary, stained glass, square dances, Karaoke, concerts, comedy shows, etc. Every night they had live music on the patio and they have a bar and grill right on the property. Once a month (which sometimes became once a week at the whim of the parent company) we served 25 cent beer, wine, and sodas, during the early evening entertainment. It was a busy, busy, place!
Pickleball
Of course they had Pickleball and we played nearly every day. They had a schedule for 7 days a week from 7am to 10pm just to make sure everyone got a chance to play. Super important since they had 220 players and 4 courts! The schedule included timeslots for each level, women's, men's, skill workshops, beginner lessons and of course open play hours. The Pickleball group also had a few potluck socials of their own.
I entered a tournament with a girl I met playing, Amie. We started practicing with her husband, Randy, and Mike every morning at 7am.. Cold and dark when we began.. under the lights even. But we so enjoyed playing with them that we kept playing almost daily until the day we left. We didn't win the tournament, but we made some epic hits, some bad hits, had fun, and took home a bronze metal. (Shh don't tell, there were only 3 teams in our division). But best of all we made some new great friends.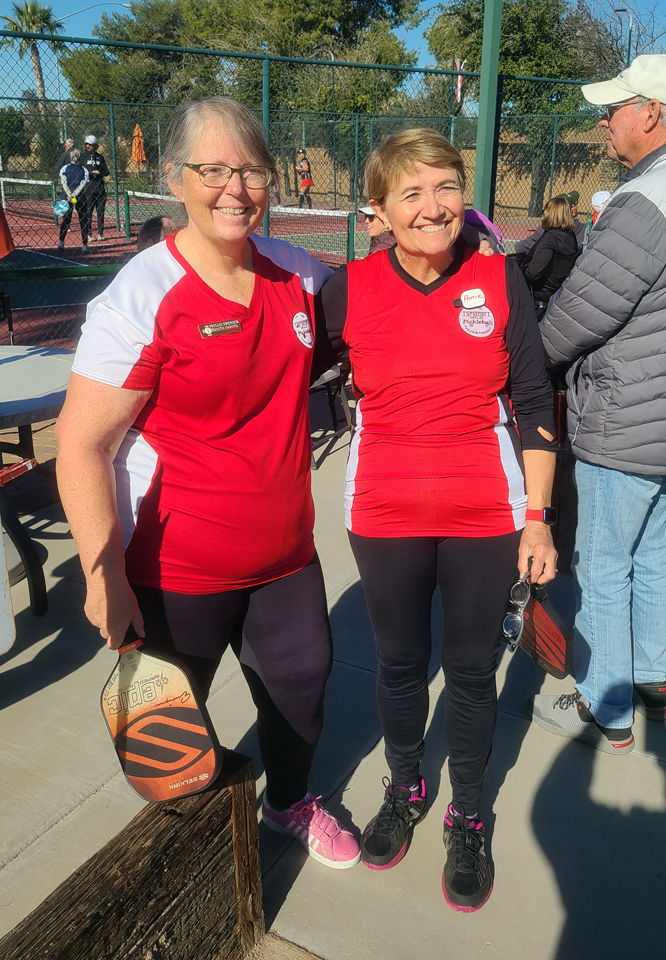 And more
It was super exciting to find out that there were opportunities to square dance 4 times a week. And without even leaving the park! Most of the timeslots overlapped with my work schedule, but I still danced a lot!
The pool room has a dozen pool tables and our activities team vowed to do some playing.. but never got that done. Towerpoint has a fantastic Wood shop that we both hoped to get more use of. But never made the time!
An then there was the quilting room..
Ohhhhhh! The second day we were there we went out exploring the park. I walked into the room and saw the 2 – 20 foot long, long arm sewing machines for quilting. I'd never seen or heard of this before. I knew immediately I needed to learn to quilt while I was there. The next day I can into the room and got involved.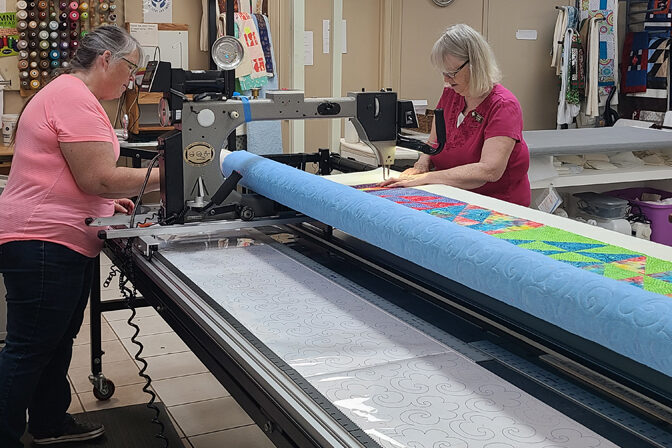 The club provides fabric for you to use if you want to sew a quilt for charity. This gives you the opportunity to learn how to use the long arm machines. So, I made 4 quilts that I donated to charity, because I wanted to try different techniques etc. And besides, here was something I could totally get into and they provided all the materials.
Finally after the 4 charity quilts, I made a quilt for my own bed, and I LOVE it. Family heirloom, whether my kids love it or not (got that girls?).
I was so enjoying the sewing that I looked for a few other projects around the house. These included a fishing rod bag for Mike. I mended a few clothes. Oh, and I put zippers into the Towerpoint hoodies of almost every Activities Workcamper colleague we had! Honestly, I spent more time in the sewing room than at my house the past 6 months!
And made some time for relationships
While at Towerpoint we had a visit from my cousin Greg Christopher whom I hadn't seen in some 30 years! He's recently become a full-time RVer and that brought us together. It was super to see him… as if we'd never been apart!
My parents also drove down to visit for a few days. They enjoyed the opportunity during the 3 days to visit 3 of their oldest dearest friends. We also got in another trip to the Florence Monastery (Went there with Greg too).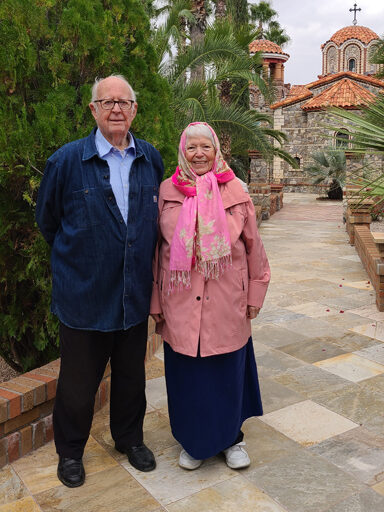 We saw John and Donna Brett a few times. Donna came to Towerpoint to quilt an unfinished quilt that she found in her mother's house after she passed. I was so pleased to be able to help her with her keepsake!
We have many other friends, some from Montana, wintering in the greater Phoenix area. We got out for one weekend to Lake Havasu to visit Jim and Jane Corbett from Montana. And for Christmas we went to Picacho Peak for 3 days. We played pickleball and enjoyed the friends we have that winter there. Add in a weekend trip in February to Albuquerque for Mom's birthday… Whew! We were busy!
And yet somehow we still found time to find and buy The Right RV. The keeper, and the follower in the Caravan. The 2015 Tiffin Phaeton!
Our new RV is beautiful! It's a diesel pusher, it has opposing slides (making it feel very roomy inside). It has a walk in closet and a residential refrigerator and a fireplace!. Everything in it just feels better quality than our first RV. I totally think we will love living here.
We parked next to each other and aligned the doors on Moving day. Mike pulled stuff out of the old RV. I put stuff away in the new RV. Amie and Randy ran the stuff between the two RV's. It was like all my stuff was being brought in with a firehose! 2 hours later we were in, 2 days later we were organized enough to live comfortably. We are still getting organized and re-organized. Maybe 2 months later we will have that tackled.
We found some wear on the edge of the couch. And the recliner fabric was falling apart on the arms. This became a new sewing project for me. I covered the end of the couch. At the other end of the couch I made a matching arm cover only. I made arm covers for the recliner and a new skirt for the Driver seat. And finally I made arm covers for the driver and passenger seats… We are very pleased with the results.
Mike is a little dismayed that he already has a 2 page type written list of things to fix or repair on the new RV, but that's RV living!
SO now to sell the old RV
Six months ago you put a sign on an RV and it would sell before you left the front door.. not so much now. The market is changing.
We participated in the monthly patio sale at the park which is a very popular event. A few dozen sites participate and its a street party as everyone walks or bikes from sale to sale. On Patio Sale day, there are always a bunch of open houses going on at the same time. Generally it's park models for sale.
We decided to have our patio sale at the site with our old RV. Then we could have an open house for it. I dragged everyone that stopped by inside. Many were not really interested, but I figure you never know where that buyer is going to come from. Without exception they all said "Oh this is much roomier that I thought!" when they stepped inside. We also sold quite a bit of things. Why does it feel like we are perpetually downsizing? Even when we are moving into a bigger RV with more storage.
But no sale came from the open house. And no sale came from Craigslist, Facebook, or Pop's RV. (Pop's RV is a site where you pay a commission to sell it on sites like RV Trader). We did get one showing through OfferUp, but they didn't bite.
Our own Little Caravan
SO on April 1 (no joke), we pulled out of Towerpoint for good. Traveling with our little Caravan: the old RV, followed by the new RV, pulling the car. I drove the former, Mike drove the latter.
Boulder City, NV
The first night we stopped in Boulder City, NV at the Railroad Pass Casino for the night. The parking was AWFULLY tight, and we couldn't put out the slides but the restaurant was good!
In the morning we rode our bikes on the River Mountains Loop Rail to Trail. This is a 100% paved, 35 mile loop trail that follows the highway for a bit, gives a beautiful view of Las Vegas, and follow Lake Meade for a bit. It left from the Casino parking lot. Unfortunately, the trail was closed for repairs between mile 11 and 20. So we rode out 12.5 miles and back 12.5 miles. Which frankly was enough riding, but Mike promised we'll come back to do the whole loop sometime.
Hurricane, UT
The next night the caravan stopped in Hurricane, UT. We had planned to stay one night at the Wal-Mart and go on. But, there was a big 3-day snowstorm coming in, so we decided to stay in Hurricane for 4 days. This means finding an RV Park, and a place to park the second RV. We ended up at one place for 2 nights and then another place for two nights. But the best part is Robyn and Jeremy live right up the road! We had a chance to spend some quality time with them!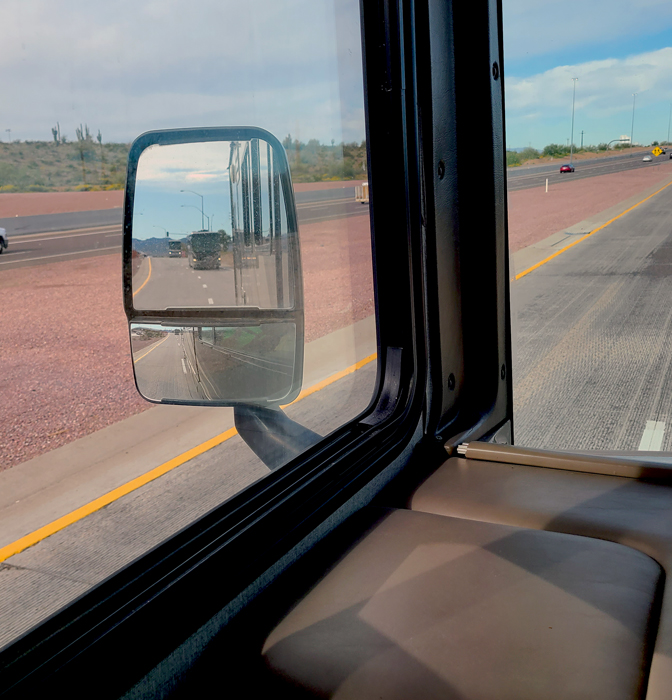 Caravaning wasn't really hard. Mostly we had to optimize the communication between us, plan ahead for gas/rest stops (since neither of us could search while on the road) and considering where to park. I didn't want to pay for a night at an RV Park for my extra RV. In Hurricane, that meant one night on the street, one night in the Walmart, and one night at a dispersed camping site.
Heber City
Tomorrow the storm will finally be gone, and we will finish our last caravan day. Our destination? Heber City, Utah (just outside of Park City), where we will be work camping for the next 7 months. Mike's looking forward to the fishing, I looking forward to the lazy days of summer! But I'll have to fill you in on that next time, as this post is already far too long!