Well, when I lost my job June 29, I vowed to blog more often. I used to say once a month, but had difficulty with that, now maybe I could shoot for once a week.. Which seems altogether too often, maybe with that goal I'll hit once a month. This post I wrote about a month ago!!! after the 4th celebrations, but then again anything goes because this post is about Freedom.
The 4th of July had emphasized meaning for me this year. I fear for our young country that only 244 years ago declared independence from a oppressive government. The birth of a nation, that while not perfect in 1776, still represented an opportunity for all people of the world to live a life with freedom as it's guiding principle. And yes, in 1776 America, there were still plenty of people that were not free, and today there are still plenty of people that culturally are not free, the framework was set and we consistently strive to be a better nation, with freedom and liberty for everyone.
Where are you from?
People ask us every day it seems where we are from. As a full-time RVer, that is a very difficult question to answer. Mike is from Utah, I am from New Mexico at least that is where I was raised, but I was born in Wisconsin. I lived my early adulthood in Arizona. When Mike moved to New Mexico (where we met), he worked in California (commuting weekly). We last lived in a house in Colorado. But we are residents of South Dakota where our permanent address is and we vote and pay taxes. If you want to mail something directly to us today, we are in Montana…. Usually I answer, "we are from the USA", or sometimes a little more specific, "we are westerners". Regardless, we have obviously enjoyed the freedom to move around.
Yesterday was Independence Day. This summer we are from Montana. I don't know if Montana wants me to speak out for her, but yesterday Bigfork, Montana, filled my heart with hope for America. Mike had to work, but I wanted to celebrate the holiday, so I began looking for events going on. Bigfork has a reputation of BIG 4th of July Celebrations. They are known for their parade, and draw 7000+ people to this unincorporated community of 4200 people. In late June the parade was cancelled due to COVID-19 concerns. Obviously there was a lot of disappointment.
A Freedom March
Following that announcement some people organized a "Freedom March" to take place at the same time and place as the parade. I thought I'd like to participate in that so yesterday at noon, I donned my Trump hat and headed downtown. There were plenty of people walking around, and plenty of traffic, but I didn't see any organized group of people, so I asked someone. I was told the parade was move a few mile away to Ferndale. So hopped in my car and headed over there.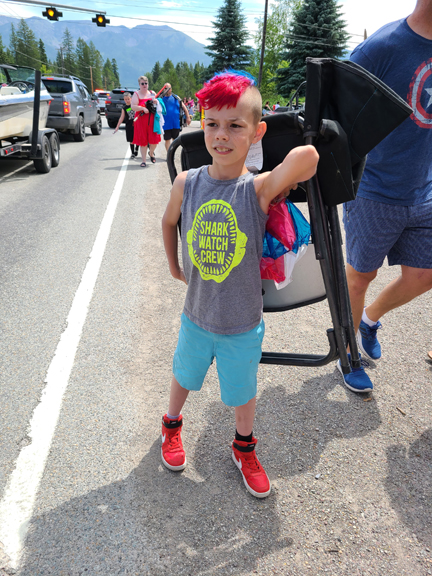 It turns out it WAS a parade. Disappointed fans of the parade had relocated it to Ferndale whick was a much more wide open spot with the intent of less conjestion of people. I didn't think being late to a freedom march would make any difference, but being late to a parade, meant I was stuck in traffic, and did not really see any parade. But I walked around and chatted with folks anyway. Many were wearing their support of President Trump, others were obviously not fans, but out to celebrate the holiday. Regardless there was positive energy in the air.
I asked a number of spectators what they thought. Some said it was a parade, some said it was a freedom march. Others said it was both. Everyone said it was a good event.
Duh, closed on holidays!
I then went into town for grocery shopping and errands. Costco was closed.. (Good for them!) Generally I try not to shop on a holiday, but for some reason this didn't even hit my radar until Costco was closed. I guess because Mike was working. On the way home I passed the Rodeo grounds, and the opening rodeo of the year was in full swing… I guess I kind of missed that too. That is a big event in Bigfork and I had kind of sort of intended to go, although probably would not have gone without Mike.
Later I heard the rodeo was particularly good this year, because so many rodeos had been cancelled that the best rodeo stars had limited choices of rodeos to attend… Humm, now double bummed out I missed the rodeo. Chalk another mark up for positives due to the coronavirus. (Read my related blog post here).
Proper celebration in the park
The state park Mike is working at was very busy. All the parking lots were full and they were having to restrict entry as cars left. He got done working about 8:30pm. I spent the early evening learning to use my camera, one of my goals when not working is to learn to use my camera better. I thought I'd study up on Firework photography. Then about 9:30 we headed out for the show.
First stop, top of the hill
The other camp hosts had advised us that the best spot to view the fireworks was the big open field in the middle of the campground. Mike, wanting to avoid the congestion, suggested we drive to the top of the hill (halfway to the campground) and then walk to the high point where there was a bench. So we headed up there. The lake was beautiful, and we did see fireworks all around, and across the lake. But the ones across the lake were too small, and the ones close by were inhibited by trees. About 10:30 we decided to move on down into the campground.
Second stop, overlooking the dude Ranch
The dude ranch property next door to the park was the ones with the big firework show. When we got to the prescribed hill, we decided that we would not see many fireworks unless they were up very high, again due to the trees. We hiked a trail leading as close as we could get to the ranch, and the view was ok, but still encumbered by trees.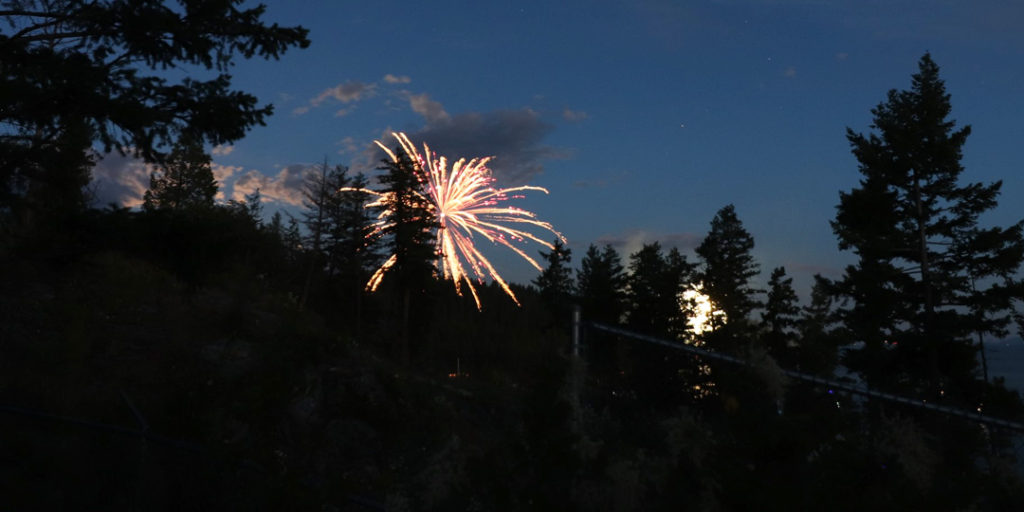 Third stop, the boat ramp
After about a half an hour watching from there, we headed back to the car, by way of the boat ramp/dock. We walked out on the dock. THIS was the place to be. Fireworks going off 365 degrees around us.. It was fantastic! I played with my camera exercising my new skills.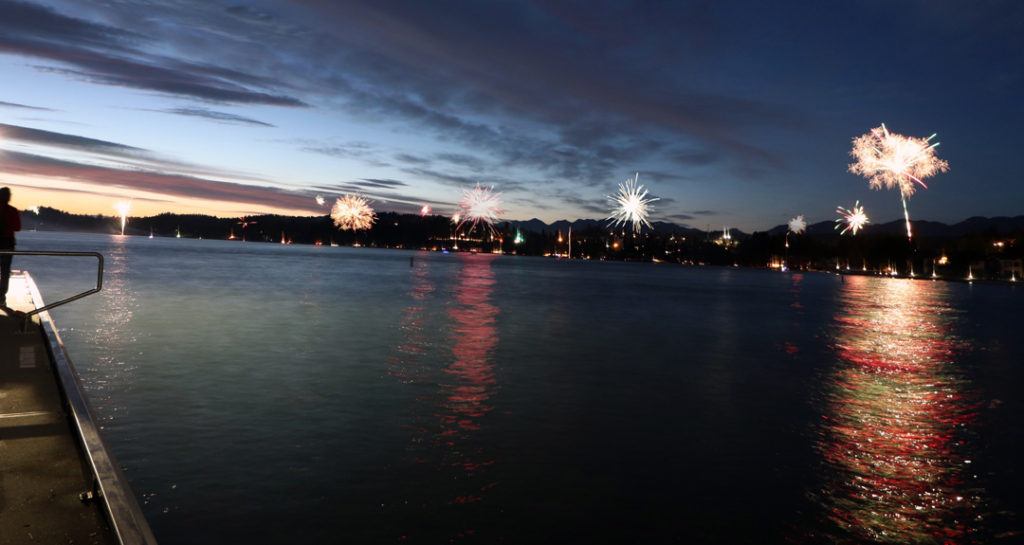 And final stop, the field originally recommended
After another 20 minutes there Mike was getting tired and so we headed back to the car. We passed by the field just as the big fireworks started going off. The show was fantastic. We stopped there for another 20 minutes of fireworks. Exhausted we went home and crawled into bed, with Fireworks still booming outside in every direction. I drifted to sleep thinking how great it was to be in Montana. So much of the country cancelling it's parades and firework shows. This had to be the longest duration of fireworks I have every seen! A solid 2 hours of fireworks in every direction. Filled my heart with joy!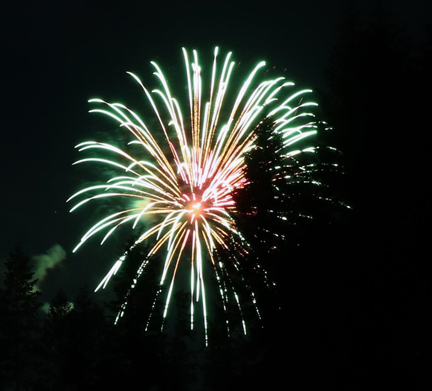 Renewed faith in Freedom
Friday (July 3rd), I was proud to be from South Dakota as I watched the Mt Rushmore celebration and the South Dakota Governor.
Today (July 5th), I am proud to be an American! Even among what seems to be a large continent of the US population who seem to forget what it means to be an American. The pursuit of individual FREEDOM for all!