We have been hanging out in Montana lately.. In fact the 5 months we will be here is already half over! A bright spot in our experiences in here was a visit from my sister, Monica, who stopped in for 2 weeks with her new teardrop T@B trailer, which she name "Little Blue Columbine"… 'Little blue' felt so big compared to her previous teardrop trailer, but parked next to 'Mac' (Our Fleetwood bounder class A… named "Fleetwood Mac"), 'Little blue' was dwarfed in his shadow.
But first.. Getting to Montana
Montana is our first introduction to Work Camping, a popular method to subsidize RV living. When you are work Camping you volunteer at the hosting entity in exchange for a free spot for your RV. Most people are familiar with Camp Hosts who are one type of Work Camper, but there are many demands for help.
We had planned to spend the summer on the Oregon/Washington coast. Mike procured an assignment in Oregon at Nehalem Bay at a park we stayed at in 2017 (blog post here). The assignment was only for April and May, but told that probably we could extend to June or even beyond. I was planning to attend the National Square Dance festival in Spokane in late June, so this seemed like a perfect turn of events.
Then came Covid… I'm sure you understand. First the state parks in Oregon decided not to open for April, so we extended and stayed in Pahrunp, NV, an extra month. We started getting nervous about the parks not opening up for May either (and at the time of this writing it is still not opened up). As stated earlier we did not have an assignment for June. Mike started opening up the search elsewhere and since Montana seemed less affected by the coronavirus, and Montana owns a piece of his heart… he began to search in Montana.
We were offered a position up at the North end of the beautiful Flathead Lake at Wayfarers State Park in Bigfork, Montana. It would start May 16 when Montana State Parks were expected to open. We were to arrive 14 days earlier to quarantine. We accepted.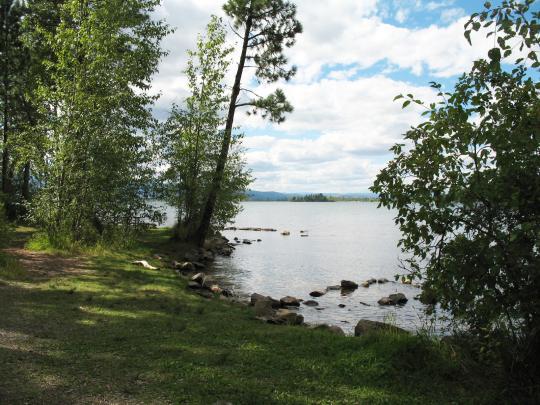 Visiting the kids on the way
In the end the park opened on May 1, but we were still in quarantine until our start date May 16.. So we took a very quick trip through Utah to minimize our exposure. We felt lucky to stop at Mike's son Josh's house for 2 nights. Josh and Carla had just moved into the house 2 weeks before, and Mike's other son Jed will be selling his house and moving into the basement apartment. Win!
Luckily at the last minute we planned in two days in Willard (just north of Ogden), because as we were driving up a tire guy at one of the gas stations pointed out we needed new tires on the RV.. Not something to be ignored. We were able to get them in Ogden.
While in Ogden, we introduced Josh, Carla, and the kids to pickleball, but the courts in town were all closed due to corona virus. In consolation we ended up making a makeshift pickleball court in the backyard of the new house they had only been in for 2 weeks. Success!
On the route we also stopped for an overnight at another son, Dan's house, in Butte, Montana.
Once our quarantine was over, Mike started working. He works 4 days a week, 8 hours a day, in exchange for our spot. Our spot is away from the regular campground, and comes with full hookups. For one of his jobs he sits in the park gate and checks people into the park. A second job finds him in the ranger station answering phones and answering questions. The balance of the time is working around the park. He's enjoying the work, and enjoying the camaraderie with co-workers. Unfortunately he is not used to working 32 hours a week, and perhaps it is too much.
We had been looking for more like 20 hours a week instead of 32. We could have found that, but since life was pretty crazy when our original plans fell through, we jumped at the opportunity without holding out for the best choice. And indeed about 3 other opportunities came up that we might have liked better, but it's all good. This is a beautiful spot and it's nice to be settled for 5 months. That is a very long time in one spot for us.
Mike's gate house is about 50 yards from our door, and the ranger station another 50 yards. Our site is off on a leg that is totally private. We have what I call a wildlife corridor out the front windshield. Due to the privacy we don't have to close the front shade. (yay!) Therefore we saw the bear, that walked by (and ate a fawn within view of our window). And lately there is a mom and baby dear that walk by each morning… It has been fun.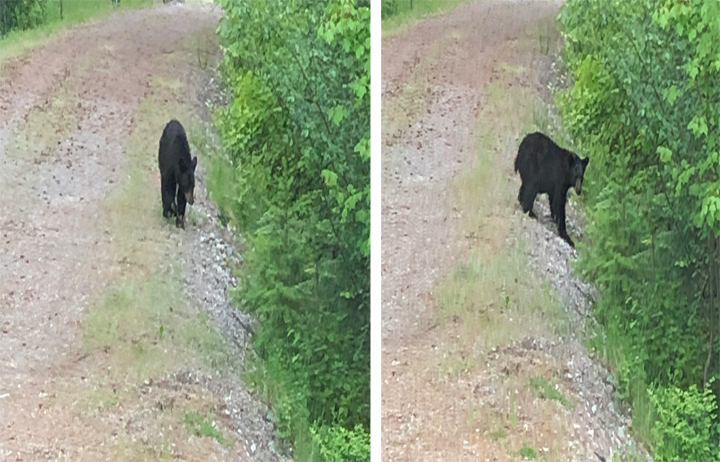 Bigfork Pickleball
The other missing element was a pickleball court. So turns out there is an athletic club about 5 miles from here, and for $100, both of us can play all summer.. We were quick to sign up for that, and later we found out that the only certified pickleball instructor in Montana lives in Bigfork and we get the benefit of his expertise while we play daily in the local pickleball club… This is fortunate indeed!
Little Blue (a T@B Trailer)
And now to to story of this post. My sister Monica is learning to live alone after 25+ years of marriage. When she and her husband first separated a couple of years ago, she bought a small teardrop trailer. Then followed that with a kayak. She loved her new found freedom and got out quite a few times. But a year in she discovered Harvest Host, and wanted to utilize this fun service, but wasn't self contained. She had no bathroom, and her kitchen required standing outside.
Harvest host is a community of wineries, farms, museums, etc. that allow RVer's to stay on their property for free, or a small donation or purchase from their business. We have been members for a couple years and have mentioned it before, but this was new to Monica. The one requirement, you must be self contained. When Corona Virus shut down the country, the business she worked for took that opportunity to let her go. Truth be told, the company may not make it back. With now new time freedom she really had the urge to roam a bit, but the existing trailer was just not going ot cut it. After some research she fell in love with the teardrops, big brother, the T@B Trailer.
I also recognized her freedom from a work schedule, and the difficulty imposed on her due to the isolation of COVID-19. Selfishly I suggested she come up here to visit.
Roadtrip to Helena
Turns out T@B Trailers are trendy, expensive and difficult to find. SO, when Monica searched Craigslist for a T@B trailer, she ended up finding one in Helena. Helena is about 3 hours from where we are now. She wanted a little moral support as she picked it up, and inspected it on the owners site. I volunteered to meet her at the seller's house and spent the first night in her new trailer with her.
The following day we caravanned back to Bigfork. Mike had gotten permission to let guests stay in our site with us (as long as they "didn't stay for the whole summer".) So we backed her trailer up next to ours. The trailer that seemed big the night before suddenly looked tiny next door to our big boy.
She stayed here two weeks and we used that time to learn everything about her new T@B trailer, how all systems worked, how to hook up to utilities, and hook up to the car. She unpacked and found spot for all her things. It was great.
Mike's expertise was welcome. Upon inspection of the heater unit we discovered 1) the glycol reservoir being too full and 2) a constant drip out of a drain on the bottom. Mike found two overflow drains, one from the heating unit, and one from the glycol reservoir. But instead of connecting to the drain outside they drained (secured by duct tape) INTO EACH OTHER.. Yep, read that again, because it makes no sense!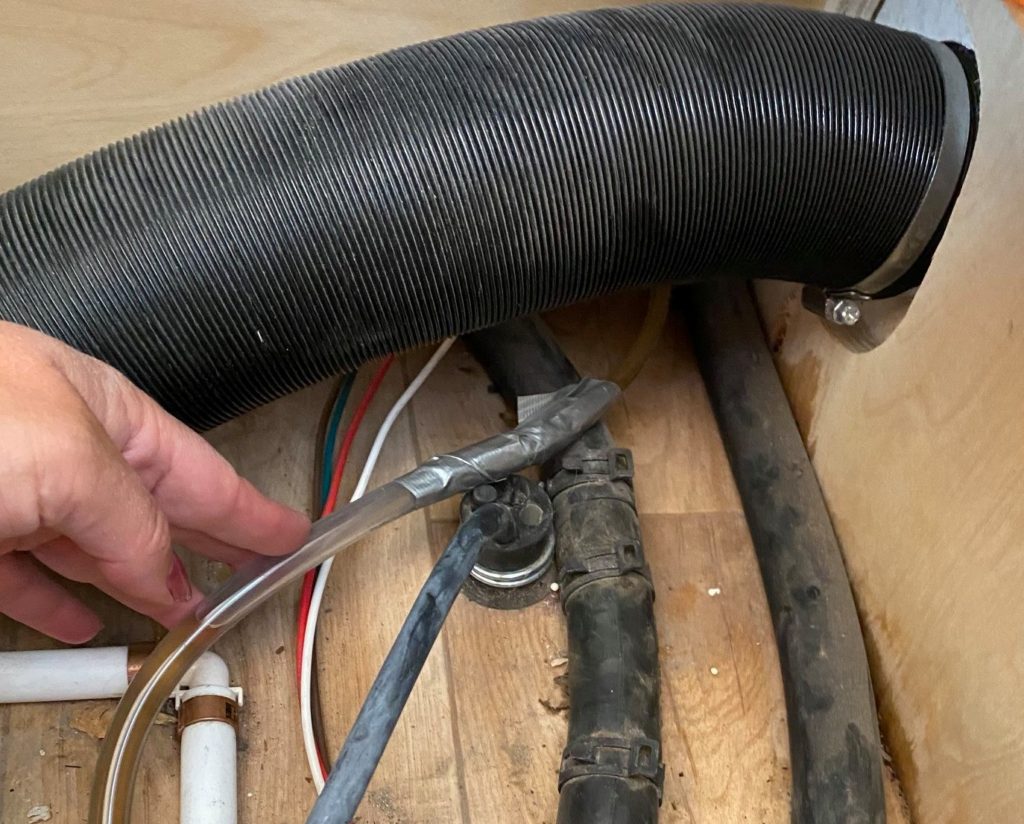 Fun on Flathead Lake
But it wasn't all work. She brought two kayaks so we did some planning to get out on the lake. On about the 3rd day she was here, we basically "got the boats wet" while we were planning a bigger kayak trip for later on in the week, That bigger trip never happened due to the weather. We went to the farmer's market in Kalispell, We walked the charming streets of Bigfork downtown, we played games, cooked hotdogs over a campfire, and of course introduced Monica to Pickleball.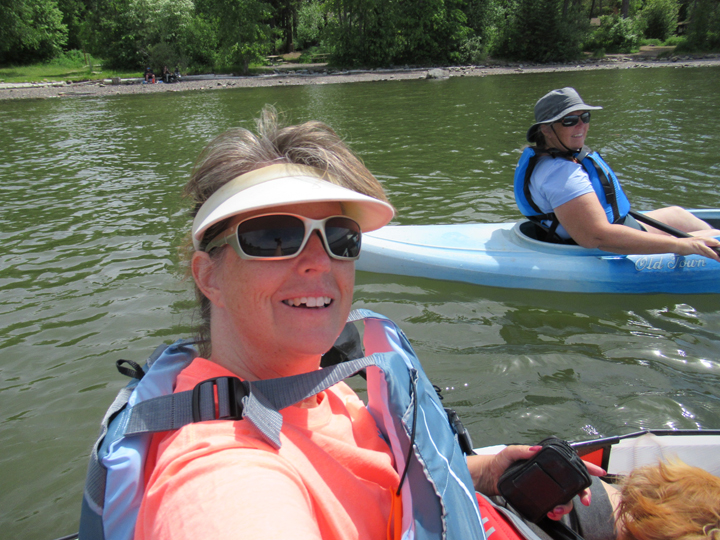 What we hadn't counted on when we got to Montana was the rain. It has rained about 5 days of every week since we have been here. So while we did thoroughly enjoy Monica's visit, we only got out on the kayaks that one time… Rained out every other day.
An outing in Missoula
Monica and I headed out on the weekend (Friday night) and went into Missoula for the night. We stayed in the T@B Trailer again, in Monica's first Harvest Host at the Big Sky Brewery (Home of 'Moose Drool'). One reason to do this was to practice hooking and unhooking the T@B Trailer.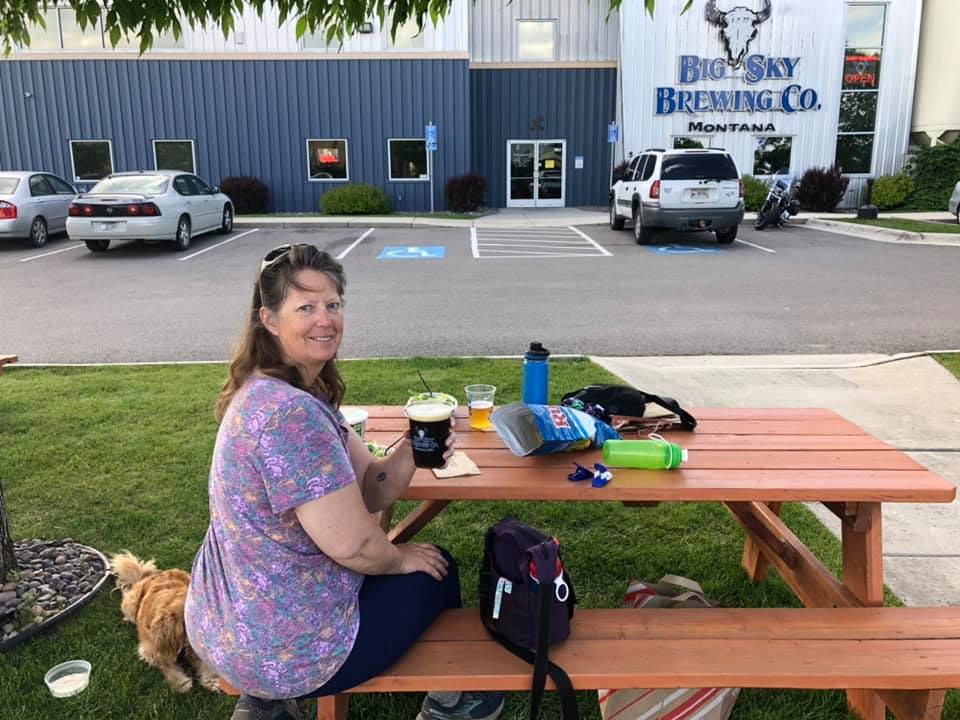 Farmer's Market
The next morning we went to the 2 Missoula Farmer's Markets, but they were a shadow of what I remembered. Mostly due to Coronavirus. Food vendors, and street music was not allowed. The traffic had to go in one direction, and tents had to be spread out. I suppose it was early in the year too, so few vegetables and not much variety.
We did happen to get some Lions Mane Mushrooms and Morels while Monica was here. I had never tried either. Interesting and very good! We finished lunch at my new favorite German restaurant in Missoula (Bayern Brewery.. yep a lot of beer for me this weekend) just as the rain started again so we headed back north.
More T@B Trailer learning
When we got back home the trailer had water all over the floor… the mystery was where it had come from. Long story short, eventually we discovered that the axle was not centered on the frame. The drivers side tire had rubbed a hole in the wheel well, not to mention the wear on the tire. It was raining hard all the way home and every revolution had brought more water up on the tire and deposited it into the interior of the trailer. We cannot imagine how this hadn't been a problem for the previous owner.
Regardless, we felt blessed to have taken this little side trip. Had we not done that this problem might have blown a tire on the way back to Colorado. Also if it hadn't been raining we never would have found this either.. We found ourselves extremely thankful for the rain. And once again, thankful for Mike, (who by the way used to work in a tire shop) He made quick business of tire removal.
He came up with the temporary resolution. This was to put a stack of washers on each lug bolt to space the tire away from the wheel well. Coincidentally the trailer shop back in Colorado were also scratching their head about how this could have happened. They thought Mike's solution was so ingenious that they replaced the washers with permanent spacers.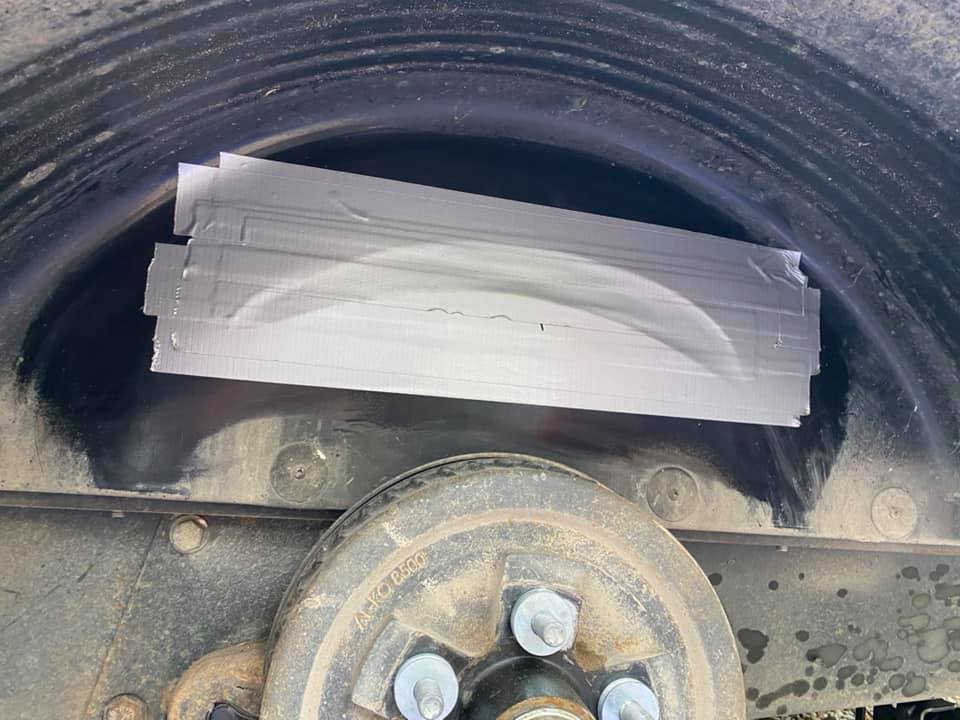 Alas the two week visit ended all to soon, and she took off with her T@B trailer back to Colorado. But we have plans for her to come back up with the new T@B Trailer in another month or so. I got back to work, she got back to the job search. And still the rain continued.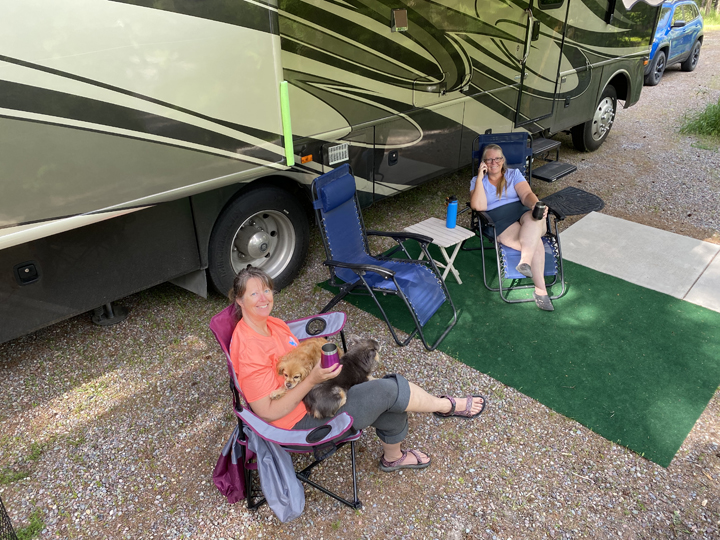 And After the visit
Tomorrow is July 4th. The famous parade in Bigfork has been cancelled do to social distancing restrictions, only to be replaced by a "Freedom March". We are super glad that as Montana is one of the least affected states for Coronavirus. There are very few restrictions here. We will be watching the fireworks from a field in the of the Campground.
In our other biggest news of the month, I got laid off from IBM last week. I'll be blogging about that on the other blog, but we are going to be fine. I have a lot of plans for things that I'll have time to do now. Starting with blogging, and learning how to take photos of fireworks for tomorrow night!
We celebrate America! I know that I am not alone when I say we hate to see what is happening in our country. We continue to have faith that this will not be the last year we are celebrating, "One Nation, under God, Indivisible, with liberty and justice for all"!