Covid-19 is changing our world. It is a line in the sand and for years to come we will be hearing stories of how it has changed peoples lives, much as TSA has completely changed the airport experience (remember we used to be able to walk with our friends to the terminal?). Forever more we might see people in the grocery store with masks and gloves, and all cashiers might be separated from us with plexiglass. Those are some of the ideas I'm neutral about. There will be other changes that I hate. But there will be some that change our lives for the better permanently. Interesting times indeed. For us, we have a new group a friends that we will never forget, and in a weird twisted way, I will always be grateful for the Corona pandemic 2020.
We will remember the Pandemic of 2020 from Pahrump, NV. Who could have imagined this when we arrived in February.
We have spend more days in Pahrump than any one other place since moving into the RV. How strange is THAT! And yet we were here for an extended stay (extended from 2 months to 3), but didn't do any of the things we had planned. We even missed the opportunity to visit an IBM colleague in Pahrump, due to social distancing rules. This winter has turned out very differently than we had planned.
TUCSON – before the Corona Pandemic 2020
Our plans included wintering this year in Tucson and Pahrump. After Sara's wedding and Thanksgiving in Albuquerque, we spent December and January in Tucson. I went to school at the University of Arizona in Tucson and Mike had never been to Tucson. I wanted to spend some quality time with my besties, John and Donna Brett, so we chose an RV park on their side of town (Rincon Country West RV resort). What a delightful two months we had there.
Square Dancing
Turns out John and Donna took up square dancing about 2 years ago, so I found myself dancing and connecting with lots of old square dance friends about twice a week. LOTS of dancing. They dance to the same caller I danced with back in college… (Tom Crisp) Small world!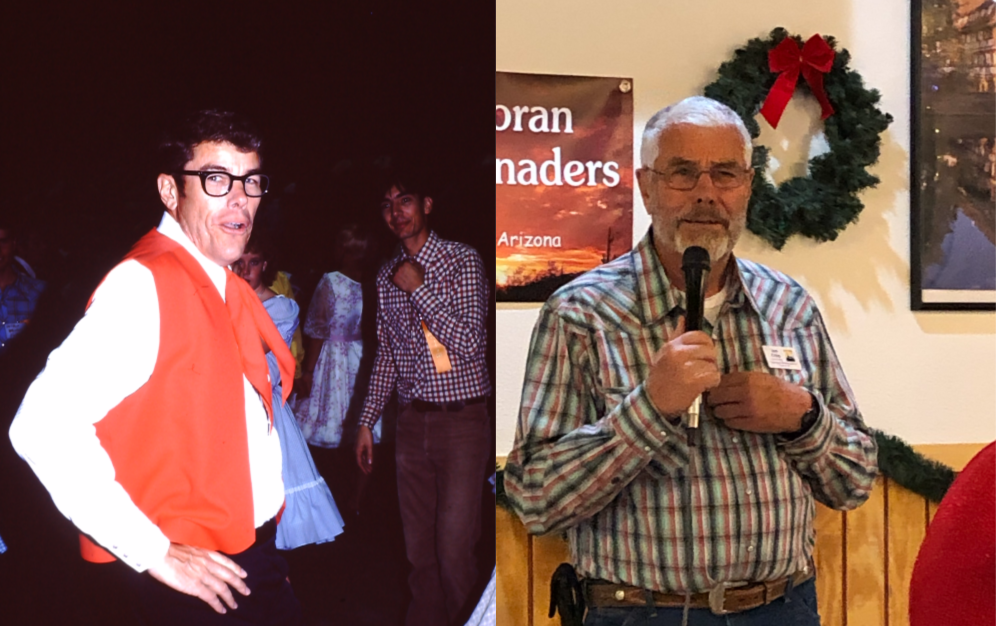 I also found out a friend/caller of mine (Rick Gittleman) was starting an Advanced Square dancing class. Since that was a goal this year I jumped on board for that!
In late January I attended the Tucson festival which I remember going to and meeting a bunch of my friends that I STILL am connected to from 1980.
The Square dancing was much fun! Especially when I look at the fact that now all square dancing has been cancelled due to the Corona Pandemic 2020 for the foreseeable future! Who knew?
Bike Riding
John and Donna also got us out bike riding on "the Loop", a BEAUTIFUL 131 mile bike path that loops Tucson. Mike got the bikes all fixed up and we got motivated to ride …. Unfortunately the inspiration didn't last as we got to Pahrump, where there is not much between Highway and dirt road.
Other visits from friends
RK and Marsha Owen stopped in to visit for a couple of weeks over Christmas/New Years. He lived with my family for two summers when I was in college , and I spend a summer hanging with him in San Francisco in the same timeframe. He is recently retired and now a full time RVer. Really fun getting re-acquainted with him, and getting to know Marsha. Their site was spitting distance to ours… I think they sometimes thought it was a little too close!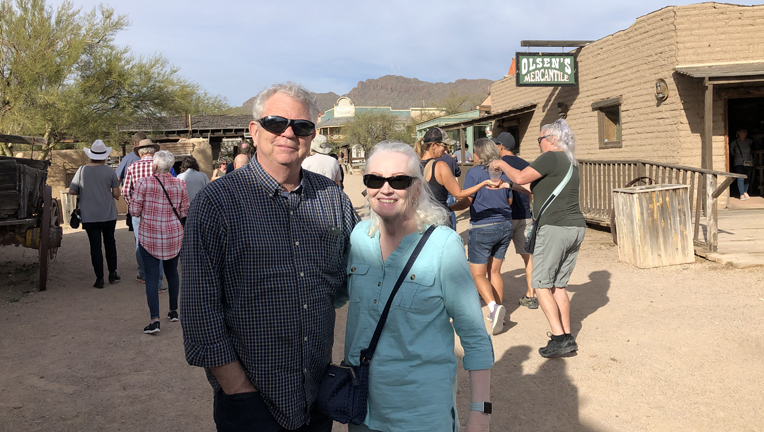 Sherry and Gary Gates (previous mentions here, and here) also stopped by Tucson for a week to visit, unfortunately her father passed away and their visit was superseded by funeral plans. Luckily we saw her for two days, and Gary a couple more. We did take the opportunity to get to Old Tucson, the movie set.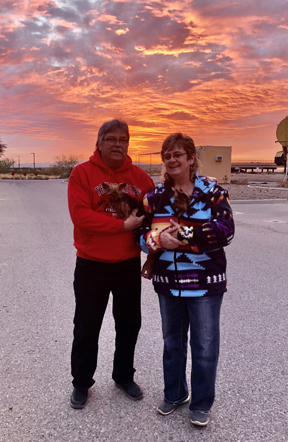 Greek Monastery
There is a Greek Monastery near Florence, AZ, about 2 hours from Tucson. We managed a day trip to see it… Wow… All I can say is Wow. I have to recommend you visit if you are in the area! Beautiful. Self guided walking tour, and FREE… yay!
AND noteworthy is … pickleball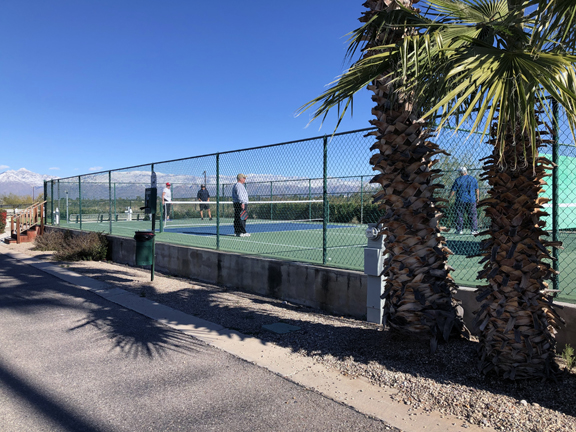 We have been hearing about pickleball since we lived in the RV and have wanted to learn to play. If you have not heard, it is becoming WILDLY popular! We have been various places that had pickleball, but never connected with the timing, etc. We first played at Galveston last year, but the court was just a net strung across the street. In Tucson they had 3 well used courts, and lots of activities at the park with chances to get to know people, so we found an opportunity to learn to play. We bought paddles from Amazon (which arrived the SAME DAY that we ordered!!, Crazy!). and before we left Tucson we had taught all of our friends to play too.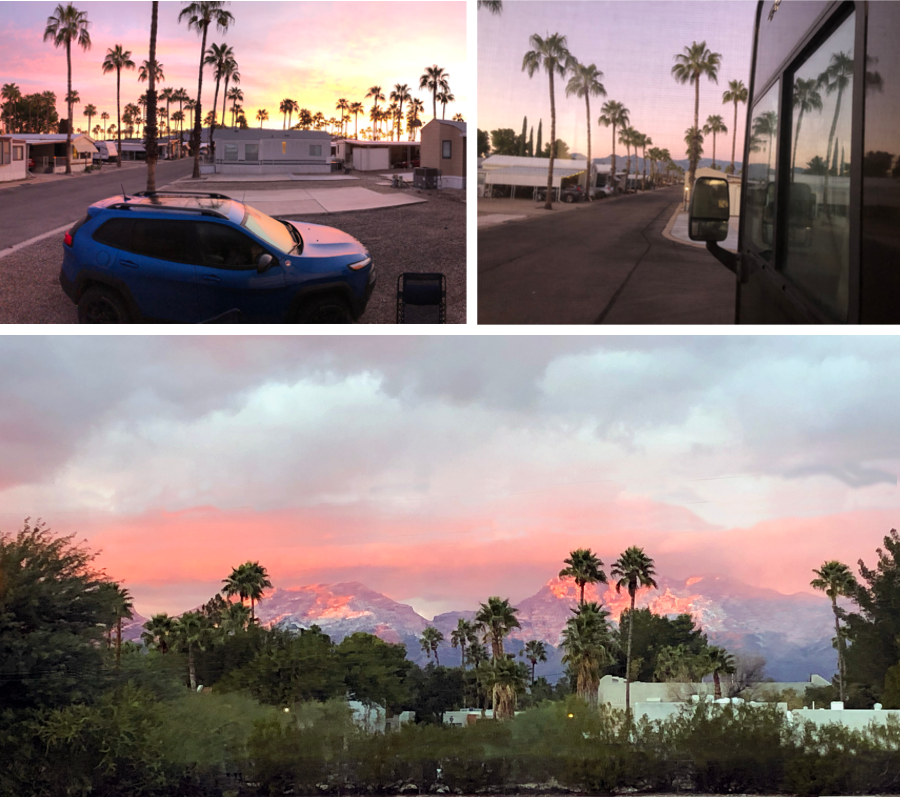 THE IN-BETWEEN
The second half of winter 2020 was going to be in Pahrump. But before we get there, between Tucson and Pahrump we took a week of time to explore Yuma, (for some unknown reason, wildly popular with RVers) and Quartzsite (Also for some unknown reason, wildly popular with RVers). We stayed on the California side of the Colorado river, near Parker, AZ, where I designed a medical clinic back in my Architecture days. Fun to see that building.
Yuma
Gary Gates, by this time was in Yuma, so he showed us around. Although I suppose the biggest attraction of Yuma is the proximity to Mexico and cheap medical services/prescription Drugs and Dental work. We didn't go into Mexico, be we did, however drive 20 miles or so into California where we could get up close and personal with the Wall… disappointed that we didn't see new wall, but did see wall, which was still interesting.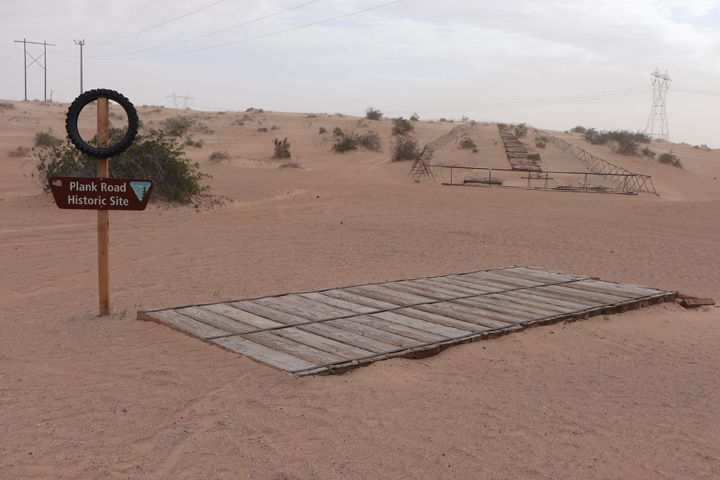 Quartzsite/Parker/Havasu
We connected to an old alpaca friend (LaVeta Roberts), now living in Quartzsite, So she showed us around there, flea markets and Boondocking are what has made this place famous.
Parker Dam holding back Lake Havasu was interesting.
From Parker, we headed on north through Havasu of course stopping to see the original London Bridge that was falling down, so they sent it to Arizona.
PAHRUMP
We came to Pahrump with the intention of spending 2 months here. February and March. In February we did get in Vegas once, and played a round of golf at our favorite course (Cloud 9).. but didn't really get out and do much or connect with many before we became shut in!
Frontsight Firearms Institute
Of course our main activity in Pahrump is Frontsight Firearms Institute. We signed up for 2-one day classes which were non-shooting and very interesting (one was Tactical awareness, another was a Glock Armorer's class where we learned to take apart the Glock completely.. very interesting). Our next class was a 4-day class that we dropped after the first day because of rain, kind of regretting that now. And finally we did attend a 4-day class (Marksmanship with the Rifle for me and Handgun for Mike). We had scheduled a 4-day class with Mike brother-in-law and nephew that got cancelled by the pandemic. Ugh!
Mammoth Mountain Ski Area
We also fit in a 4 day trip to Mammoth Mountain, CA to ski with our Trading Mentors, Adrian and Julie Manz, and their son Conner. Fun trip, but the snow was very marginal. Mike was afflicted by altitude sickness, and didn't ski much. Bonus though, we did get to introduce Conner to geocaching.
We are staying at the Pahrump Winery RV park. there is a few activities, meals a couple nights a week, bingo, cards, painting classes, a swimming pool that's too cold to swim in, and the best hot tub I've been in since RVing! It's a nice place. They also have 2 pickleball courts, the only in town. I immediately put an index card up on the bulletin board to look for beginner type players to connect with.
On the same board was a card from a guy in town who comes out to the park and teaches people pickleball in exchange for his free use of the courts. We called and played with him of course.
THEN CAME MARCH.. and the Corona Pandemic 2020
That all feels like so long ago. Who could have predicted the change that would come over the next two months. Our two months turned into three.
Suddenly my social calendar was full with Zoom Coffee's with Childhood friends, Zoom happy hour with Trading buddies, and online board games with family… Why hadn't we been doing this for years? I hope THAT doesn't change when the pandemic is over.
As luck would have it, one couple did reply to my index card. June and Gene Bidon. soon to become our new best friends, and parental figures of the group that grew to 8-10 people, as we "Quaran-teamed" through the pandemic together. These folks are life savers! We started playing with June and Gene daily, and slowly people came in and joined our group.
April and Cliff played with us for about 2 weeks and headed out just as things began to shut down.
Then Ric and Lori, joined us, with his Sister, Marilyn and hubby, Larry. Larry was suffering allergies, so those two played infrequently and have now left the park, but Ric and Lori continued to play with us daily. We were getting to know these folks so well that we were calling them our new best friends.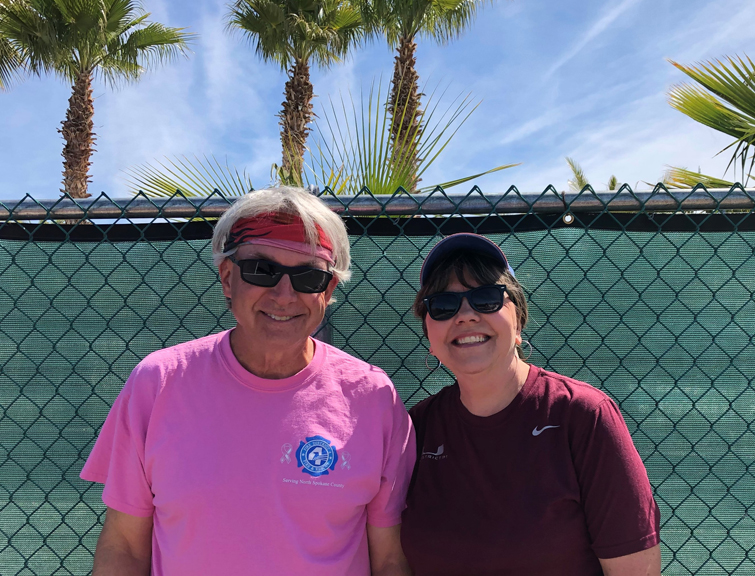 Not all about pickleball
About that time June suggested that we get together in the evening at the firepit. That has been lovely! So that has become our nightly routine. We were feeling a little guilty about whether this qualifies as social distancing or not, but we are all here in the park together, none of us are leaving except for the occasional trip to the grocery store, ad trying to coordinate that amongst ourselves. Honestly, it's like our extended family. Then CNN coined a term, "Quaran-teaming" where groups of individual decide to quarantine together. That is what we are doing!! Soon I was introducing these folks as our extended family. I realized it was a small step until I was calling June and Gene, Mom and Dad…. not sure they love this little development.
June and Gene, coincidentally are from Westcliffe, Colorado.. about an hour South of where we lived in Canon City. They are here for the winter with some friends from Westcliffe, Steve and Peggy. Steve is an Avid Geocacher, so fun to chat with him about that. He has some health concerns that keep him off the pickleball court, but they have been joining us at the firepit.
We organized a BBQ and potluck for Easter. That was another bright and memorable spotlight.
And then came Robyn and Jeremy
Just before Easter Robyn and Jeremy arrived. they are the youngest, most energetic and competitive members of our group. They have brought a whole new dynamic to our little family, not the least of which has persuaded us to up our game with the pickleball.. This daily playing, and friendly competitive spirit has really made a difference. We keep commenting that "there are no longer any easy points" in our game. But SO FUN!! Every day we laugh heartily, while we get some sunshine and exercise. Every evening we are sitting around the campfire telling our stories from the road and sharing a glass of wine. We will dearly miss this crew when we move on.
Our last evening in town we had a bon-voyage party. We were all leaving Pahrump the next morning. Let's just say, tears were shed.
This small group of friends has definitely brought a ray of sunshine into an otherwise difficult time for most, and scary time in our history. I would LOVE to hear in the comments below how the Corona Virus Pandemic or 2020 has changed your life.
LOOKING FOR GOOD IN THE LIGHT OF THE CORONA PANDEMIC 2020
The Corona Pandemic 2020 is not over. The president is talking about Re-opening America for business, before the financial risk for Americans supersedes the heath risk. But we are moving on to Montana on Monday. Mike has found a work-camping gig in Montana starting May 16. We are required to self quarantine for 14 days prior. So Monday, we will don our mask and gloves and head North with as little exposure as we can manage.
Life at IBM
Work has not changed for me during the virus. In fact if anything the change is positive. There are a number of initiatives for "responding to Covid-19" at IBM that I have gotten involved in. Also I have had very low workload since I was rolled off the German project on January, and was worried about getting laid off, but seems everyone is on hold, new clients, layoffs etc. Seems we are using our time during the shutdown to reposition, which is nice. My kids have also been unaffected, This is one time that I am super thankful for their City jobs at the library. I know many of you are not so fortunate. I hope you can sustain and recover quickly when this is over.
And in the end??
Tragedy has a way of bringing people together. This is the first time the entire world has responded in such a cooperative way… the first time we had the ability to do so, due to technology. Now, if only this Corona Pandemic 2020 would heal the divide that has engulfed our country! As for me? I'll continue to heal my small circle of influence by loving others, one person at a time.