2019 saw both of my daughter's married, and therefore thinking about planning, mostly about the dress. Last October 30 (2018), Jacob (My daughter, Sara's boyfriend) stayed up late with her. She felt this was odd because, while she is a night owl.. rarely going to bed before midnight, and consequently always struggling with her mornings, Jacob goes to bed early, and rises early for work. But that night he was willing to stay up and play video games with her.
Little did she know… he waited until midnight, because he wanted to propose to her on October 31… her favorite day of the year. She said yes, even if her first reaction was to think he was joking because he ran upstairs to change into a button down shirt, thinking this might be a more formal occasion, but still had pajama bottoms on when he knelt on one knee. They decided on a wedding on October 31 of this year.
The other daughter, Kelsey, was engaged at the time too. Her now husband, Matt, had taken her to universal studios in Los Angeles in March of 2018 and proposed in Harry Potter world…. If you knew my daughters, you would know just how appropriate this was. She also said yes (and also thought he might be joking at first).
Wedding Dress Shopping
At any rate, Wedding fever was in the air when we were in Albuquerque in November of 2018. The girls and I had a day out to go dress shopping.
I really had no intentions of buying wedding dresses, I was just looking for a fun day out. The girls were looking for inspiration, and it gave us a chance to explore some ideas for the weddings. To our surprise, both girls found dresses they really liked.
Kelsey further shocked me by returning hte following week on her own and buying the dress she liked. Sara loved the dress, but of course wanted it in black… not that they couldn't have done that, but it also was quite expensive. I told her that I would help by making the dress. (Who had THAT bright idea… oh yeah me!)
I know, I'll MAKE Sara's dress!
The next week we left Albuquerque and wouldn't be back until the following October, so I applied a trick I've been doing lately, getting a $4 sheet at Walmart to make a pattern from. I roughed out just enough to get roughly her fit. We spent the next couple of months deciding on fabrics online, buying samples, one set for her, one set for me so we could communicate over the phone. She decided on Black Matt Satin, with overlay or Champagne Organza, and a second layer of black organza, I do admit, the combination was pretty, and sparkly.
I also did a bunch of design sketches. Her idea was convertible dress that could be worn long or short.
Gilmore Girls had a similar dress for inspiration. Sara wanted something formal, and beaded, to wear on other occasions as well.
I bought a second sheet and made a prototype with that one, and mailed it to her for a fitting, and then used that to make the final dress. None of this is overly remarkable, escept for the fact that I did all this sewing in the RV. My 4′ counter in front of my bedroom window was just enough room to hold my sewing maching and surger. The bed became a layout table, and I had to bring a special chair from my Mom's house that would fit between the counter and the bed. My short 3′ ironing board fits on the bathroom counter, over the bathroom sink. It worked, but was not overly comfortable, nor spacious enough for the yards and yards of flowing organza I was sewing.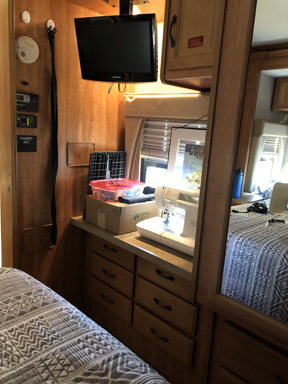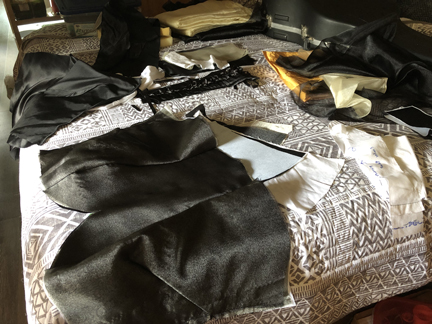 Kelsey and Matt
Apparently traditional weddings are out of fashion. Both my kids opted for rather, non-wedding weddings. Kelsey and Matt drove up to the mountains with a friend to be a officiant, and another friend to be a photographer. The photographer and her boyfriend were the witnesses. Kelsey and Matt didn't per se elope, because I knew the date ahead of time. She wanted the photos, and wanted the dress, but not a ceremony with guests. She wanted it to be very private.
Afterthe ceremony in the mountains they spent the weekend in a spa in Santa Fe and then went to the Art Museum Meow Worf in their wedding garb for a fun, memorable day.
Sara and Jacob
Sara got married at the courthouse… on Halloween of course. She had their best friends (Todd and Emily) as Maid of Honor, Best Man, and witnesses. I got to go with them, as did Emily and Todd's son.
After the ceremony we had a family party at a local restaurant with in-town family and friends only. The following evening was to be a party at Emily's house for friends, and finally a third party at their Sara's Dad's house a couple of days later. All before heading out on a 10 day honeymoon to Orlando (Disney and Universal). 2 weeks of constant celebration.
Preparations
I flew home on October 18th to help out the final couple of weeks and do the final fitting, hemming, and finishing touches to the dress. Meanwhile Mike drove home from Maine to Albuquerque by himself. He took 8 days, driving about 5 hours a day. Taking full advantage of our Harvest Host membership, he stopped at 2 wineries, an air and space museum, an automobile museum, an RV park and 2 rest areas along the way. He didn't ever take the car off the tow, so he stopped at gas stations, and the overnight locations, and walked everywhere else. He made most of his meals at home and read a lot.
Mike got to Albuquerque well in time for the party. I took the whole week off of work, and I'm glad because even with a non-wedding wedding, it seems I had plenty to do finishing the dress, and getting otherwise ready.
The Celebration
The morning of the wedding Kelsey, Sara and I went out to get our nails done. At the party that evening, we gave toasts, threw rice, and generally celebrated the couple. The other parties went as planned too. The honeymoon in Orlando at Disney and Universal was fabulous.
The Judge impressed me and actually had them say all their vows, that was more than Mike and my wedding. To see the video of their vows, click this link here.
I think the private wedding phenomenon is weird because after all a wedding is a joining of two families, not really two people. But also I laugh because even though it is a private affair, they all had photos, and they all had the dress! .. On the other hand, both my girls got married in 2019 (both kept their own names), and I am still financially viable! Woo Hoo!
And after the weddings…
The RV spent November in Albuquerque, even if we did sneak off to Miami for a week (see the last blog post). So November was chock full of social engagements catching up with friends. Having a dinner club party at the RV, etc. Since I'm intermittent fasting now (a post for another day), eating every other day made it rough to schedule the social outings. I'm not sure I ate a single meal at home. Fun!
We stayed in Albuquerque for Thanksgiving. The past couple of years I did Thanksgiving on Friday in Albuquerque so that it would be easier on those who had other family in town. As it was, Kelsey & Matt had 3 Thanksgiving dinners on Thursday and ours on Friday. All 14 of us were at one table, the food was fantastic.. Good to be at Mom and Dad's.
That ended our month plus in Albuquerque. We left town the next day.. but that is also a post for another day.