We parked Mac in Camp Verde Arizona for the month of March so that we could explore the Sedona/Prescott region, and what a magical month of manifesting it turned out to be! I do believe in manifestation.
As usual, the people in our lives turned out to be the most important element. In February we met Sharon and Gary at Picacho Peak on the Pickleball courts. somewhere along the way we discovered they were also going to Camp Verde at the same time as us, although to a different RV Park. At the time we were heading to Spearfish, SD from here.. and so were they. Humm, something serendipitous was going on there!
The park we stayed at in Camp Verde, Verde River RV Park and Cottages, is a lovely park and has nice facilities, including new pickleball courts, but for some reason nobody plays there.. So we went over to Sharon and Gary's Park, Verde Ranch RV resort to play where there was a very active Pickleball community, which included Jen and Dean, who all 4 of us were particularly drawn to… So over the month we became fast friends.
Nearby Camp Verde
Peavine Trail
We played pickleball daily but also got in some sightseeing in the local area, since that was our goal in the area. On our own, Mike and I visited Prescott and road the beautiful Rails to trails PeaVine Trail.
Jerome
With Sharon and Gary we poked around the quirky mining town of Jerome, AZ. one day. The gem that day was the glass blower. On a side note, if you do go to Jerome, plan to drive on up the hill and over the pass. the views are gorgeous!
Sedona
We also spent a day poking around Sedona. We went to the Chapel in the Rocks, Walked around downtown, and took in the scenic rocks. John and Donna Brett in Tucson had mentioned how Sedona is a world famous destination to visit their healing energy vortexes. Our last stop was a shop that we almost missed… ended up turning around to get to, but it was a crystal shop… and they could tell us all about these vortexes, and give us a map to all 4 of them.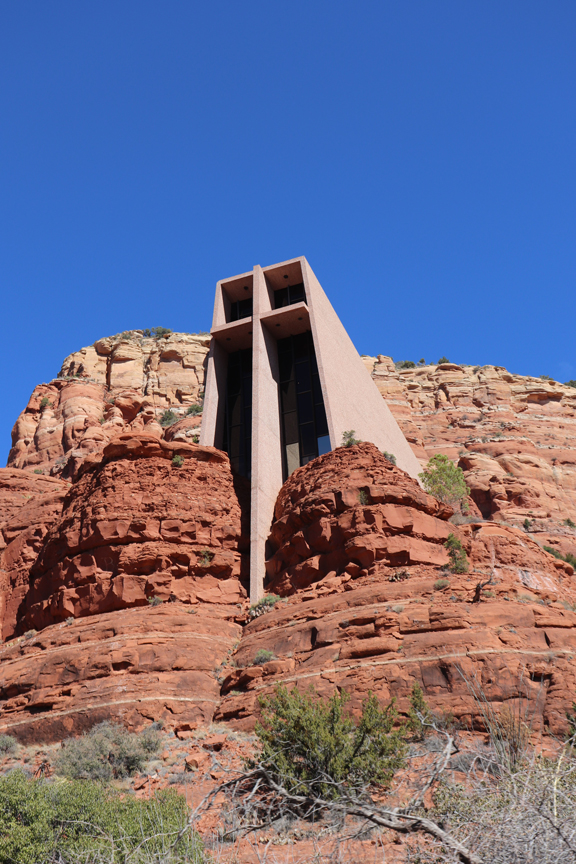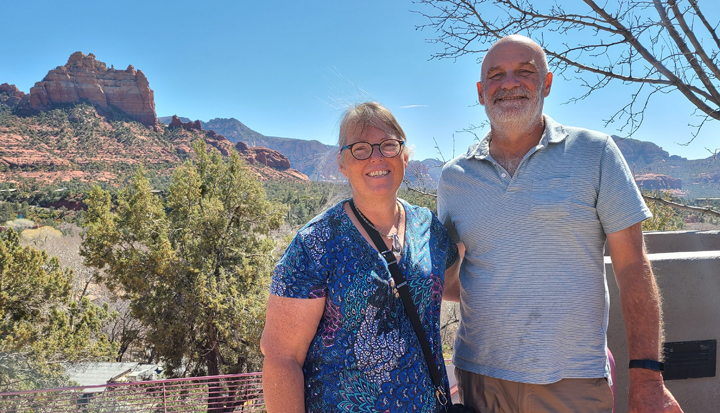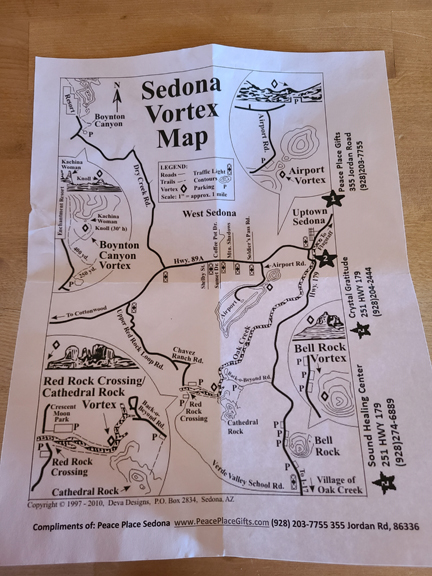 In a nutshell vortexes are this, any hill on earth effects the energy field and has vortexes, but because Sedona has so many rock formations and has been a sacred place to the Native Americans for thousands of years, coupled with the healing intentions of the modern day visitors, Sedona's vortexes are very powerful. Some vortexes effect some people, other vortexes are effective with others. Some people may not be effected at all, and some vortexes may actually negatively effect a person. Sharon and I decided we had to come back and spend a few minutes at each one. The boys were not so interested so we planned a girls day and invited Jen and another friend, Becky to come along.
We had a wonderful day! Magical really.
The magic started when we reached the trailhead for the first vortex, the Bell Rock.
Although we had tried to get an early start it was already around 10am and the parking lot was full. Jen said.. "Yeah, that's the problem, we might as well drive on and try the next one." We were stuck in traffic. I said, "Pshaw! The guy in that car parked beside us is coming down the trail and is going to get into the car opening up the spot for us before the traffic moves!" Jen said, "What guy? Where?" straining her neck to see, to which I replied, "Oh, I don't see him… I'm just manifesting." We all laughed. Then the car ahead of me pulled ahead, then, just as I was about to pull ahead the light on the car flashed with a "beep, beep".
Jen just looked at me in amazement while the owner of the car got in and pulled out just for us! She says, "Maybe you can manifest lunch too!".
Bell Rock Vortex
We hiked up to the vortex, on and around the rock formations. Jen and Sharon got tingles when they were near the spot. typically I didn't feel much. We did see a butterfly right at that spot. We took that as a sign we had it right. What fun!
Cathedral Rock Vortex
The next one (cathedral rock) also had traffic issues, and we considered waiting here too, but decided we'd rather go to lunch instead. We enjoyed a wonderful lunch at the Cowboy Club. To thank Mike and I for the rides/gas we had been providing to our adventures, Sharon sidelines the waiter to say she would be paying for my lunch. When the waiter came and said my lunch was paid for, I looked at Jen and said, "Oh, did you want me to manifest lunch for ALL of us?"
Airport Vortex
The next vortex we hit was the Airport. This on had a VERY small parking area with maybe a dozen cars. Heading up the hill I didn't even realize that was it, and it was full anyway, so once turned around, heading down the hill… in perfect manifesting style, a car pull out just as we got there to pull in. Otherwise we might have skipped this one, but it turned out to be my favorite! Atop the noll formation, the views in all directions were spectacular. Saw another butterfly flitting there. Can't say any of us felt this one strongly.
Boynton Canyon Vortex
And finally, we headed out to the Boynton Canyon Vortex. We hit this one around 5pm, so the light was nice, and this one had a bit of a hike associated through the forest. It was very peaceful and pleasant…. AND saw a manifesting butterfly here too. Jen practiced her rock climbing skills and climbed to the top of the Kachina Woman formation, but I was getting tired, and honestly didn't think she would do it, so I missed that. We got home tired and fulfilled after a perfect day in Sedona, just as the sun dipped below the horizon.
Another (not really manifesting) trip to Sedona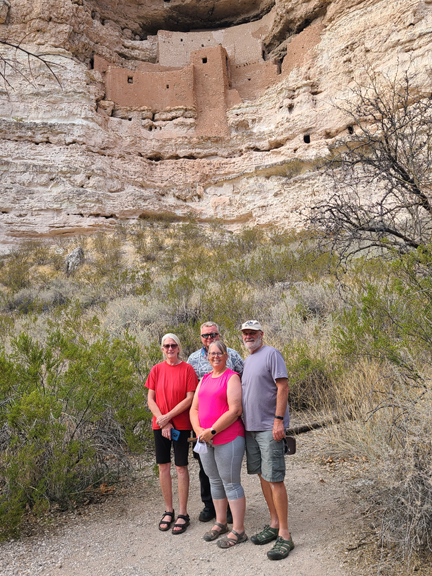 We were blessed at Camp to have the opportunity to spend a few more day with our buddies, RK and Marsha Owen (I last spoke about here, but we stay in touch regularly). They have been trying to go a on a mission to Norway for 2 years, waylaid by Covid and travel restrictions. So they spent the winter in Mesa Arizona again and stopped by Camp Verde on their way North and our last few day there.
While they were visiting we took in Fort Verde (the Arizona state historic park) and Montezuma's Castle National Park. These were both very interesting.
Devils Bridge
But out most memorable day was another Day in Sedona where we hiked the most popular hike to Devil's Bridge. From the main parking the trail is a 2 mile hike from the bridge, but if you have a high clearance vehicle (which we do) you can drive in half the distance to the main trail head one mile from the bridge.. Be forewarned though, although the parking is easier if you do it, Mike likened the driving like driving down the center of a mall…. SOO MANY HIKERS.
Once we started hiking it was still very crowded, having to wait for others on the trail so you could proceed. And at the bridge, family units stepped out to take a picture on the bridge, with a reportedly 2-hour line to do so..
We opted instead to take a photo near the bridge and photoshop us onto the bridge later! I don't suppose this is manifesting, but I still "made it happen"! We have a picture on the bridge!
If you do go, be sure to take the side trail to the view under the bridge. This is a hidden gem overlooked by many and so was much less crowded.
And more manifesting?
The word of the vortex day was definitely manifestation… the word of the month really was manifestation.
2 weeks later, on our last day to play pickleball, I paused the group because I saw this beautiful Tiffin Phaeton pulling out. This is the RV Mike and I have been drooling over since we bought our current RV. I waved to the driver as I always do to Tiffin drivers (hoping one day to be one, figuring the good karma never hurts). Then I told the rest of the players, that's my next motorhome. (Honestly, I didn't mean THAT EXACT ONE). Jen says, " Oh, is that Paul. he waved." I said, "No, it's just a Tiffin driver. I don't know him, I'm just manifesting again!"
Well, it turns out it WAS Paul (a fellow pickleball player) and he was leaving for Colorado. Because I waved, he came back to say good bye. I told him I admired his rig. He told us that he was sadly going back to Colorado and sell it. His RV days were over. Mike's ears perked right up… "Well, how much are you asking for it?" He said he wanted a certain price, but figured he'd probably have to settle for a lower amount. Now, had he just said the higher amount, Mike would not have been interested… it was beyond our budget. But the lower amount we could scrape together (an I mean scrape). Mike looked at me and whispered, "If he'll honestly sell it for that, we should buy it!"
Wait for it!!
So I asked where he would be in Colorado, and … wait for it … he lives in Montrose, and WE WOULD BE DRIVING THROUGH MONTROSE before the week was out! Hmmm. We met up with Paul, toured and drove the RV, and made him an offer. Paul was a little shell shocked. He needs some time, and in the meantime might sell it for more than we can offer… but then again.. I am pretty good at manifesting! This story will be continued!
Update:
Paul sold the RV… He actually got above asking price for it! Sad for us, glad for him. I guess his manifesting skills are better than mine! I'll keep practicing.