After school in Athens we decided to stick around in Texas for the next few months. After all we thought it likely that Texas had pretty good RV Sales. We had never been in Hill country before, and Tim and Paula (who hosted with us in Montana this summer) live there. Mike found a very nice RV park in Kerrville so it was settled.
GETTING TO HILL COUNTRY
Kerrville is just East of San Antonio.
Nacogdoches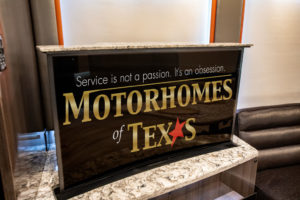 From Athens we backtracked a couple hours to go to Nacogdoches, which is the oldest town in Texas, and also has a very high end motorhome company headquartered there (Foretravel), and a very large Motorcoach dealership, Motorhomes of Texas. As soon as Mike figured out how close we were, he started drooling at the prospect to visit. Unfortunately the Foretravel Factory tours were closed due to Covid, but the Dealership had a LOT of high end inventory and it was great fun to spend the day there. Besides, Nacogdoches is the oldest town in Texas and it was fun to learn a little about the history. Near the visitor center they had pavers inscribed with the names of donators. I was delighted to find one from one of my favorite Vlogs I follow! Nicky and Jason Wynn of "Gone with the Wynns". Yay!
Escapees
En Route, this sidetrack took us the next day through Livingston, Texas. Livingston, Texas, is famous for the Escapees RV Club, one of the oldest and largest RV clubs. Most of the people who choose to domicile in Texas, when they go full time, join Escapees. This is because Escapees has a mail service similar to ours in South Dakota. We have joined few RV Clubs, Passport America, Good Sam's, but never felt like we used them much. So don't have any RV Club memberships now, and don't miss them. But none the less, I was curious since we were so close and we opted to spend a night at their park. Read our review here. I was surprised they did not have an official marketing tour/or packet. So mostly we just took the opportunity to walk the community and chat with folks.
Katy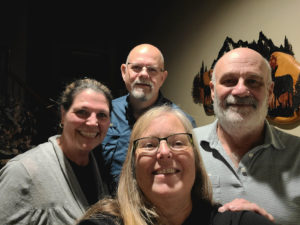 The next day we got down to Fulshear, Texas (right next to Katy) and spent the evening with my Cousin William and his wife Stephanie. Always nice to catch up with them for a few hours.
In Fulshear we stayed in a brand new park, that really had a lot of potential. Unfortunately, anyone in the area knows that the construction in the area makes getting around there a wreck. Even Google couldn't direct us appropriately. We ended up making it, but not without stress. AND our battery died again! Same thing happened in Oklahoma, and was caused by towing, and us not removing a fuse when we stop for the evening. Second time? Maybe we will learn. Good news is we knew what it was an fixed it quickly.
So we had a little touring between our long term spots. That is always a goal of ours.
KERRVILLE
In Kerrville we stayed at Buckhorn Lake RV Resort. Somehow we lucked out and got a beautiful site overlooking the river and with the island right in front of the RV. The park had a lot of amenities, mainly we played pickleball daily. There was a great group of players that mostly live here full time, so they know each other well and are very friendly.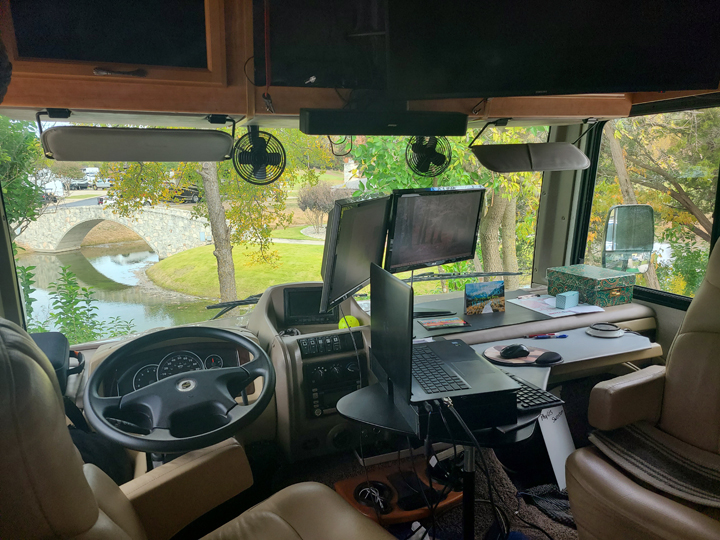 Tim and Paula are about 15 minutes away and so we had our own private tour guides. We were invited to their house for Thanksgiving and for Christmas, which was of course fantastic to have friends to celebrate with. We spent a couple days touring around the nearby area, seeing Fredericksburg and the Johnson Ranch, where Lady Bird lived until her death recently in 2007.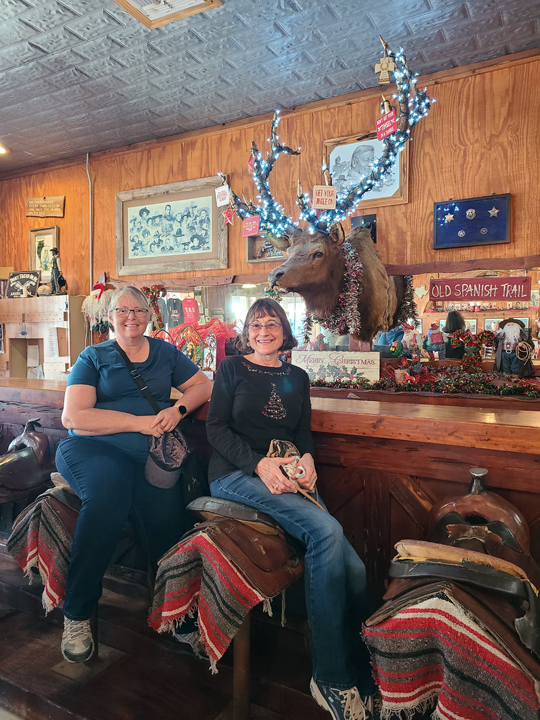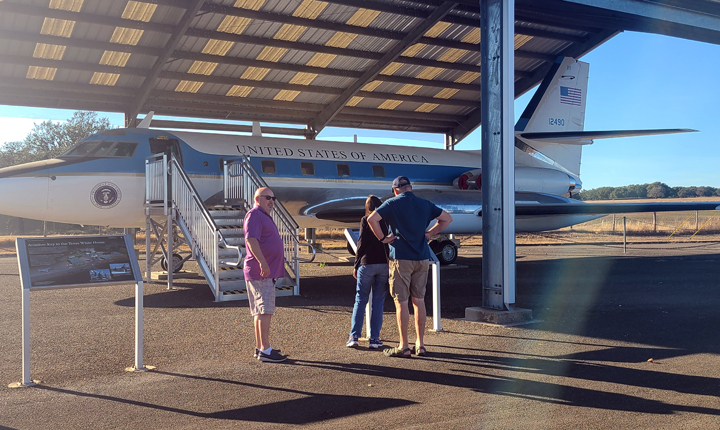 One evening we drove into San Antonio and took the Riverwalk boat tour. Through the month we enjoyed lots of good restaurants, lots of good card games, and lots of great camaraderie!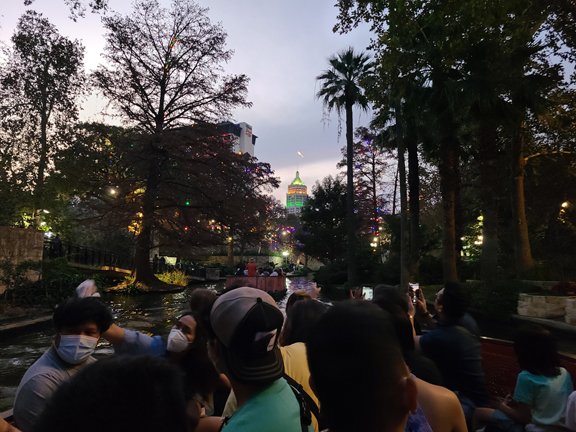 This is all the heaven part. Paula wanted me to make sure you knew that she was in the heaven part!
Inspections
The RV inspection contracts were not coming as fast as we had hoped, and one thing I did was to call all the inspectors in the area to introduce myself and ask for referrals if they had more work than they wanted. One guy has been an inspector pretty much since it's inception (2014), Don Baker. He had actually just twisted his knee and was planning on taking about a month off, so perfect timing.
Slowly things started picking up. We got an inspection through him. Then we got another inspection on our own. We decided to go up to Don's town a couple hours from us and meet him in person. He promised more work, We got a couple more calls that didn't come through. Ultimately, we decided that the best time to leave Hill Country would not be just after the holidays, just as we were getting momentum. We were scheduled to leave January 15.. So we decided to extend to February 15.
Cedar Fever in Hill Country
That decision happened about December 18. Then December 20 the Cedar trees started releasing their pollen. Oh my goodness! I have never had allergies to plants before. This knocked both of us off our feet! The pollen coming off the Cedars in Central Texas literally looks like smoke. Hill Country is squarely in the center of the map showing the extents of the Cedar Pollen.
Mike, who has had a lifetime of allergies, said this was as bad as it gets. We were sneezing, runny nose, coughing, headaches, not sleeping, and therefore exhausted.
On Christmas Day we drugged ourselves up good to mask our symptoms and we were able to enjoy our invitation for dinner and cards at Tim and Paula's… But we were nervous.
More Inspections (Yay!)
The following week we had 2 full inspections to do. That is about as busy as we would like to be (although for sure, would rather have them with more consistency). The first was Monday. Tuesday we finished that report and rest was in order. Wednesday we headed out to the next inspection.
The Thursday Inspection was in Stanton about 2.5 hours away. This was a bit far, but I negotiated mileage cost, and we arranged to stay in the RV that night. So we were able to do half the inspection Wednesday and half on Thursday before we drove home. It worked out perfectly.
People are surprised when they hear what an RV inspection costs, but they don't realize that we spend about 8 hours each; crawling over, under, examining every cabinet, seam, outside and in. We look for gas leaks, water leaks, inspect 3 electrical systems, 2 water, 2 waste disposal systems, etc. etc. It is thorough and exhaustive. More than you would do for a house. Oh, and by the way, a house doesn't go through an earthquake everyday as you drive down the road. It has been extremely satisfying to help buyers learn about their new RV. We ALWAYS find something. The buyer has in every case been able to get them fixed or negotiate a new price, and has left fully satisfied with our fee. I think we are going to like this gig.
We finished the report for the Stanton RV on our drive home and the next morning we took off to San Antonio to go to the RV show with Tim and Paula. Fun, but busy week.
And a new service …
Monday we were lucky enough to contract another of our offered services, an RV Orientation. The first RV we inspected called us up to spend a couple of hours with them providing RV services to orient them to their new RV… Since after all we know most everything about it now! That is a fun part of the job, but we came home after that feeling exhausted, and in fact I went to bed early because I had a sore throat coming on.
More than just Cedar Fever
Well, the next 3 days were miserable. I had a horrible sore throat and couldn't utter a word. I moved from the couch to the bed and back… just sleeping the whole time. By Friday it had migrated to a cough, I decided I should get a Covid test, but the clinic only does that for the first hour and a half of the day first come first serve.
So the next morning we were out there standing in the bitter cold and wind for an hour before I got in. I was worried because I hadn't had a runny nose during this illness, but after standing out in the cold for an hour, that was no longer an issue and tested positive for Covid. Of course that day (Day 5) I felt remarkably better also. Didn't really stick though as the exhaustion carried on day after day for another whole week before I was totally better. And still I have a little annoying cough, but that most likely caused by the Cedars.
Mike too
Mike has had a persistent cough and therefore loss of sleep and lack of energy pretty much straight through. I'm sure he had Covid too in the mix of it all because Omicron is so contagious, but the Cedar Fever symptoms took over (Which comparing Omicron to Cedar Fever symptoms is pretty similar!). So much for staying another month for the work. We had to turn down 6 jobs due to not being up to it!
And then there is the weather!
The hill country has surprised us by being predominately COLD this winter. Not that this winter is unusually cold, in fact everyone wants to tell us about last year. Remember when the power went off for a week in Texas… well the people who lived through it will remember it for a LONG time.
But we will remember hill country as colder than we expected. In the RV, you generally avoid the cold. There is no insulation, and difficult to keep warm. Mike reminds me that as you might have a "mud" area in your home… In the RV that is "your whole living room". Anyhow, it hasn't been consistently cold but just cold enough (combined with our physical limitations) to keep us inside, and leave a hill country impression that we spent a LOT of time indoors. This week for instance we had an ice storm that froze our water and although I tried to walk to the shower house, I did not make it.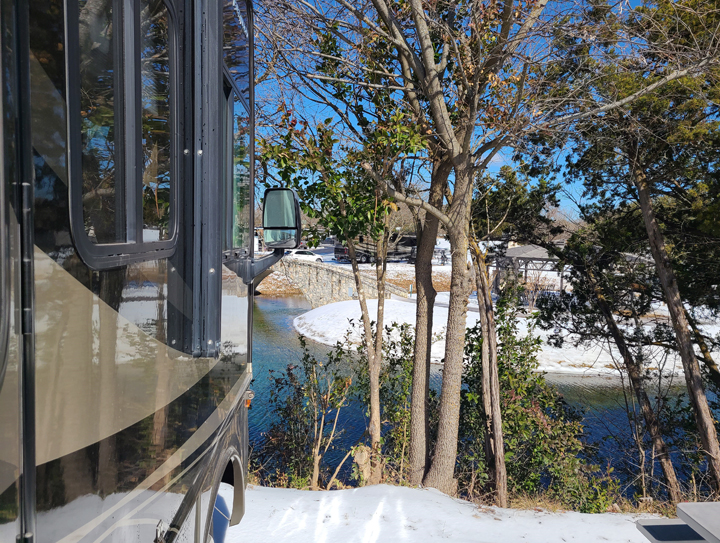 But soon we will move on
So now, 2 weeks left here. We haven't gotten everything checked off the list, but I can't wait to head on out. That is why we have wheels after all. When something is not right, head on out. It's really a shame because it really was a nice RV park and had a lot of fun activities etc. And Hill Country itself is a lovely part of Texas. We just have been too sick to enjoy it.